By: D. Smith- Digital Media Class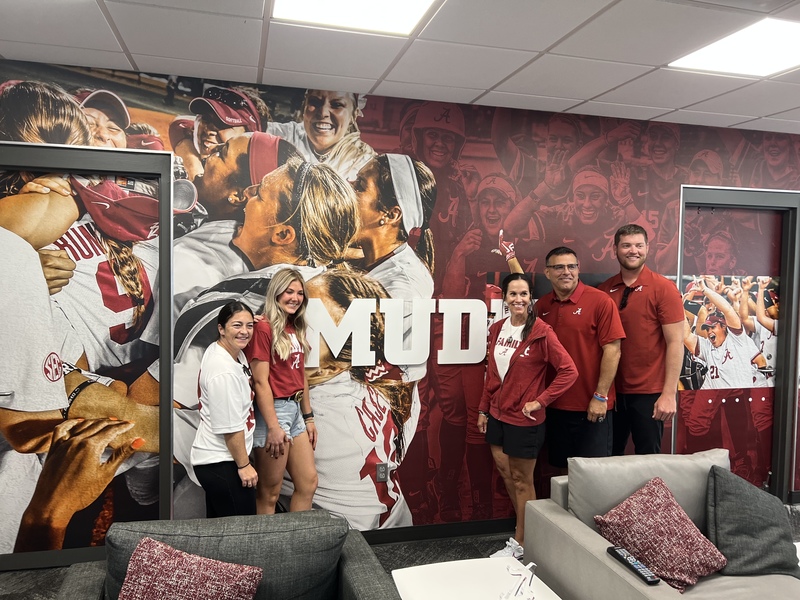 * Kennedy with University of Alabama Softball coaches.*
Kennedy Marceaux is a Junior at Kaplan High School who has recently verbally committed to The University of Alabama to play softball at the collegiate level.
Kennedy has always had a love for softball. When she was nine years old, she found a little, pink fairy bat in her garage and that was the first day she had even thought about playing softball. Her parents signed her up for rec ball shortly after, and from then on it became something that she and her dad would do together. She really enjoyed spending that time with her father and they became much closer. This was when she fell in love with softball.
Kennedy recalls the exact moment she realized she had a true love for the game. She and her dad were watching little kids play during the rec ball season and she felt such joy watching them enjoy the game. Kennedy says, "It wasn't a job, it was just a game for them and they enjoyed it so much. I love watching other people enjoy the game and it made me feel a bond that we share for the game." Her real love for softball is felt through watching other people enjoy what she loves and also giving back to the game. Kennedy has given lessons to younger softball players and shared her knowledge of the game with them for years.
Marceaux's favorite softball experience has been playing in the PGF All American Games in California. This is where all the Power 5 D1 scouted athletes in the country play against each other in a Sophomore vs. Juniors game. Kennedy says, "It was really cool to be able to play with other Power 5 D1 recruited athletes, because one day they will either be my opponent or they can potentially be my future teammates."
Kennedy has been committed to softball ever since she started playing, there was not much time for anything else. She played basketball when she was younger, but she hated it. However, her parents would not allow her to quit in the middle of the season so she had to stick it out. She also participated in gymnastics, but never competed in the sport. Marceaux says, "I really enjoyed gymnastics, but it was taking up time that I would have rather spent getting better at softball." She also became involved in Track and Field in middle school and continues in high school. Kennedy participates in long jump, triple jump, and high jump.
Outside of being a Lady Pirate, Kennedy is also a part of the Hotshots travel ball team out of Texas. This organization is one of the best in the country and very well known. Throughout her years of playing for Hotshots, Kennedy has become one of the top ranked players in the nation. She feels that she owes much of her success to this team and her coaches.
On September 1st of an athlete's Junior year in high school, colleges can begin talking to athletes about possibly attending their school. The colleges might invite an athlete on a visit to their campus and facility, and they will try to get to know the athlete personally as well as their families to see if they would be a good fit for their program. Kennedy received twenty-five phone calls on September 1st and attended five visits to different D1 colleges that were interested in recruiting her.
When deciding on a future softball program, Kennedy was looking for a place where she would thrive. She was looking for a place that felt like home, and she wanted to commit to coaches and a team who were going to push her to be her best but also pick her back up when she falls so she can succeed again. Marceaux says, "When I got to Alabama I just felt it. I felt like that was where I was meant to be. The coaches made me feel that they cared more about the person that I am, not just the player. At the end of the day I felt like they are still going to love me if I go 0 for 3 or 3 for 3."
Kennedy is most looking forward to attending U of A to experience life more independently. She is excited to see what Alabama has to offer, because she knows it will be very different from Louisiana. Marceaux says, "I'm excited to further my education as well as my softball career at Bama."
Kennedy plans to major in Sports Management and Business. Her career plan is to become a general manager for any professional sports team, but she would really like to manage a major league baseball team.
We asked Kennedy if she were to scout herself, what would she say she does best on the field. Marceaux says, "I consider myself to be a well-rounded athlete, meaning I believe that I do everything well but I don't think I am exceptionally great at one thing like hitting or defense. My skills are divided pretty equally, but I can always be better."
Marceaux is considered to be a hard-working and competitive athlete and student. With all the excitement of recruitment trips and visits to colleges, she stays on top of her schoolwork. She is considered to be a good friend by her peers, an exemplary student athlete by her teachers, and a well rounded young lady that her parents are very proud of. Kaplan High School is proud to be represented by Kennedy and we wish her all the luck!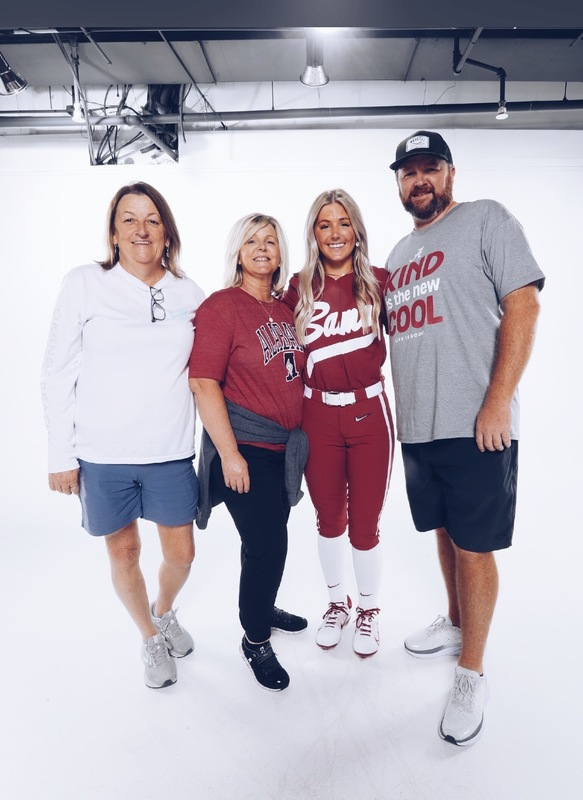 *Kennedy and her Family during her visit to the University of Alabama*